Despite the cooling measures, more lands are being releases for sale. Although speculation that the bidding price will be high given the location it is in, but with the current buying mood of the buyers it might not goes so well if it were to set another record prices.
But the good news is that the prices of the project nearby it will be beneficiary as the new project prices will likely to help to push up the current prices for their unit in time to come. Not at the price of new launch project of course.
This potential new project will likely to attract more attention as this one of the most sorted after area. Will this be a sold out project within a day, we shall see when times comes.
Govt releases two sites for sale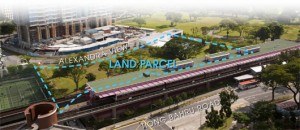 Strategically located next to Redhill MRT station, within an established residential estate, the future development will be close to Tiong Bahru Plaza, Queensway Shopping Centre and IKEA Alexandra. Crescent Girls' School and Gan Eng Seng Primary and Secondary Schools are also in the vicinity. Read more…
image by propertyguru.com